Sint Niklaas Commemorations
550 Squadron Commemorations in Sint Niklaas, Belgium
LL851 / BQ-V
Photographs from the commemoration services in Sint Niklaas for P/O Dukelow and the crew of LL851 who lost their lives when their plane was shot down by a Messerschmitt over Belgium on 21/21 May 1944 on the operation to Duisburg. LL851 was one of three 550 Sqdn Lancasters lost on this operation. The aircraft crashed into a field owned by Albert Van Hoornick at Heimolen (Oost-Vlaanderen) between the Wever and Heimolenstraat some 3 km S of Sint Niklass, where all were buried in the town's communal cemetery.
The following crew members were killed and are buried in the cemetery at Sint Niklaas:
Their entries on the 550 Squadron Roll of Honour can be viewed here.
For more information about the crew see also the P/O Dukelow crew web-page.
Click on the pictures below to see photographs of recent commemoration events.
Commemoration 2023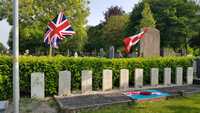 (click on picture)
Photographs taken at the May 2023 commemoration service for the crew
Commemoration 2019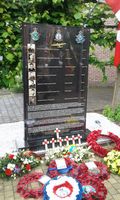 (click on picture)
Photographs taken at the May 2019 commemoration service when a new memorial to the crew was unveiled close to the crash site
Commemoration 2018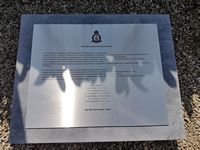 (click on picture)
Photographs taken at the May 2018 commemoration service when a new Memorial Plaque was unveiled

Also photographs taken at the November 2018 Remembrance service
Commemoration 2017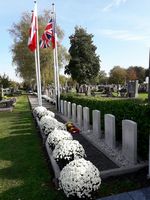 (click on picture)
Photographs taken at the November 2017 (All Saint's Day) Remembrance service
Commemoration 2016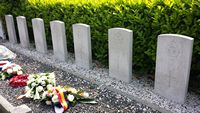 (click on picture)
Photographs taken at the May and November 2016 commemoration services
Commemoration 2015
| | |
| --- | --- |
| (click on picture) | Photographs taken at the November 2015 commemoration service |
Commemoration 2014
| | |
| --- | --- |
| (click on picture) | Photographs taken at the May and November 2014 commemoration services |