Failed To Return
F/O Roy Kay - Evader
F/O Roy Kay (F/Eng)
Image kindly made available by Joe Pinguey
Evasion
F/O Roy Kay was the only survivor of the crash in which the remainder of the S/Ldr G S Smith crew were killed. F/O Kay evaded capture with the help of Dutch people in the area of the crash. With their assistance he was able to return eventually to the UK. F/O Kay was transported from Aalten to Lichtenvoorde, and from there he seems to have been transported to Belgium so he could be saved by the Belgian lifeline. The man who took him to Lichtenvoorde is still alive [Ed: at time of writing in 2012], living in Canada.
After returning to the UK F/O Kay was transferred from the General Duties branch to the Administrative and Special Duties branch on 24/2/45 (London Gazette 10/4/45) and remained in the RAF post-war, transferring again to the Equipment branch 1/12/48 (L.G.15/3/49), promoted to Flight Lieutenant 17/10/49 and retiring 17/10/58. [Information kindly available from Mark Simpson.]
Oliver Clutton-Brock's book "RAF Evaders" lists Kay as an evader, but lacks any other detail as his evasion report, which should be in the WO208 file series, could not be found.
Thanks to Joe Pinguey for making the following documents available.
Post-war Kay used to work for Barclay's bank and later he had a grocery store. He passed away on the 23 March 2009 of lung cancer (having been a heavy smoker). The family lived around Kingston upon Thames.
See the Grimsby Telegraph link (16th July 2012): What happened to sole survivor of war bomber?.
The Dutch Connection
Now the story from the Dutch side.
Many thanks to Jacques Ploeger for providing the family information, photographs and copies of dcouments that tie up some loose ends about what happened to F/O Kay after he parachuted from the stricken aircraft.
| | |
| --- | --- |
| What you may say, September 1944 | Warning against giving information, September 1944 |
After the raid on Sterkrade on June 16/17 the plane ME840 Lancaster, was hit and came down in the neigbourhood of Aalten. It lost a tailpiece and part of a wing.
Initially the family (younger family in later years) knew only that the survivor of that crash was F/O Roy Kay, and that the rest of the crew were KIA. They knew his name, embroided in his own handwriting, from a small piece of silk that appeared to be from his parachute.
As times go by, the Dutch who suffered WW II, piece-by-piece give some information of that time before passing away. So is my mother in law (in her late 80's) who worked for the resistance in the Eastern part of Holland.
Asking about this name Jacques's mother-in-law provided the story that he was wounded at the lower part of his back and that she took him on the back of a bike to a hiding place avoiding the Germans. The family eventually found out that this man safely returned to England through the pilot lifeline.
Then, more interesting, it was found there was a DVD available where the lady talks about the rescue of this pilot, and the way she got to know that he managed to enter Britain safely. Her story goes like this (in transcription from the DVD and translated):
An english plane was shot down. The pilots safely landed with their parachute (apparently she did not know that all crew members were k.i.a.) One of them landed in a tree, hurting his bum and unable to walk, sit or lie for a few days. When he recovered that much he was able to be transported, he had to walk a short track. It was fairly dark already. It must have been in the spring of 1944. (we found out it was late june 1944) he got a raincoat and a felty hat and off we went. He had trouble walking. Just a few meters passed the sollicitors house we had to take the path. It was difficult walking there. He had his arm around me hanging on my shoulder. I tried to get my other shoulder under his arm, to support. Slowly we went the path that climbed a little, across the road into the Koningsweg. Some people came towards us. ''Ev'ning'' they sounded. There was a kissing noise next to my cheek, and chuckling behind us. Suddenly I had to laugh too. It was an odd situation. We arrived at the meeting point a little later than suspected. We both were dog-tired at that moment. Geert, (her later brother in law) stood there with a transport bike, with a big bearbar on the front. Where normally the hive (basket) was tied, there now was a quilted blanket carefully tied up. J. (my father, ''ome Jan'') and I helped the man climbing his ''seat'' while Geert held the bike. Afterwards J.and G went on. J in front to look if the road was safe. His first move back to England. Later on a code message came in that his escape succeeded.

I still have to chuckle about those kisses flying around my head and there still is that delighted feeling that I was allowed and could help to get this human into safety.

The parachute he risked to use and brought him back to earth later was divided. After the war it first became my wedding dress. Later again it became a craddle cloth for our children, and after that also for three of our grandsons.

Funniest part is, that when Geert married, that same wedding dress, with some changes also served as the wedding dress for his wife (my sister) Jannie.

One of my best memories. (Imagine to have to move an English native speaker through the Dutch countryside!)
Her father was (in that part of the country) well known as head of the resistance, called ''ome Jan'' (Jan Wikkerink). In our archives we have some documents from Mr. Churchill, de Gaulle, Eisenhower and Montgomery, addressed to him, saying thank you.
Things to Make from a Used Parachute!
The pictures (below) show you what people were able to do with a used, English, WWII parachute!
The silk of that parachute was later used by my mother-in-law for her wedding dress. Afterwards it became the upholstery of a cradle and even later it again was re-designed as another wedding dress.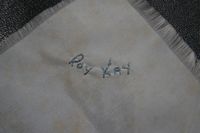 Roy Kay name tag on parachute

Some information about lost crew was provided by W/Cmdr Jack Harris as follows:
"The embroidered piece of silk with "Roy Kay" on it must have been from a silk scarf Kay was wearing. Aircrew did not have personal parachutes because parachutes had to be changed every month for unpacking, drying and repacking. You handed your parachute in and collected another every month."
| | | |
| --- | --- | --- |
| Wedding dress | Wedding dress (originally WAS a wedding dress, then made into a baptismal dress) | Lining in cradle |
Almost 69 years later ... and another child has been baptised in Roy Kay's parachute
This lady, who put Roy Kay on the transport to freedom, with her great-grandchild wearing the parachute
| | |
| --- | --- |
| Image kindly made available by Joe Pinguey | Image kindly made available by Joe Pinguey |
Bringing the Story Up to Date
April 2012
In April 2012 after the long search to find out the details described above a DVD was made and a copy of it was handed over to the Aalten War Museum, together some of the items described above.
April 2016
The investigations to find Roy Kay continued and in April 2016 the following information was received and concludes the searches by the Dutch family for their "evader":
The good thing is, that we finally made contact with the widow of Roy Kay and all his stepchildren, and a grandson. Mrs Kay still lives in Kingston upon Thames, as we thought before.

Life was like a roller coaster afterwards. The first contacts took place somewhere around November/December 2015. From the mails I got the message came that the family would very much like to meet my mother-in-law (who helped Roy Kay after the crash with ME840). Then, on March 23 2016, I had to inform them that my mother-in-law sadly passed away. It happened to be the same day as Roy Kay died in 2009. Is this a coincidence?

Then the message from the Aaltense Musea (WW II memorial museum) came that they were about to open a special exhibition with 44 stories from ordinairy people about what happened under WW II in that area, under which: the story of Roy Kay.

Sharing this with the Kay family, Maureen Kay phoned me (she 82 years old) offering all the decorations Roy Kay got from the RAF including the membership of the Caterpillar Club.

The family only found out about the past after Roy Kay died. Just in time the decorations arrived, and opening the parcel and putting the decorations in a small showcase, officially opened the exhibition.

Anyhow, we are waiting for the family to join us in June, in order to show them the neighboorhood, where it all happened, including a tour through the museum.

Thus our search for Roy Kay was completed.
August 2016
On 13th August the widow of Roy Kay, together with daughter Alison, eldest son Paul and grandson George plan to visit the Aalten War museum, where there is an exhibition telling (among others) the story of evader Roy Kay. Relatives of the Dutch family that sheltered Roy Kay in the Hague after the crash also intend to attend.
8th August 2016 Email
"Even from the States, people are coming. (Granddaughter to Alex Wissink, who sheltered Kay for 40 days in the Hague). From that family 5 persons are coming. One of them from Germany (they live close to the border as Dutch) two of them from the States. Great thing is, that also the next generation will be there to. One 13 year old and one 16 year old. Lest never forget, so to speak.

I just got an email from the museum, that even the major is invited. I advised the museum to get in touch with the press. Local is always coming, but I would more put my bet on provincial and country wide press, possibly tv."
13th August 2016 Email
"On the train back to Amsterdam after an amazing day.

Jacques picked me up from his local station and we went from there to meet the Kay family at their hotel.

From there we went to the farm where your uncle was found and the farmer whose name I have forgotten gave a talk on how his father found Leslie. Quite a few people joined us there including a family from The Hague whose uncle helped Roy Kay through his passage back to the U.K.

We then went to the farmers house where he showed us the shelter that hid various people from the Germans and a large collection of artefacts that his son has put together. There were two thick folders containing all of the correspondence you have sent to him over the past years including a photo of you and I together at the 550 Sqn reunion which explained why he said to me he recognised me from the photo when we first met and I didnt understand what photo.

From there we went to Aalten and stopped at a path that Roy Kay and Jacques mother-in-law took when she helped him after the crash.

Then on to the museum in Aalten where the various dresses that were made from Roy's parachute were on display along with various memorabilia from the resistance of the area. They put a lunch for us there.

From there we went to the cemetery and then back to the Kay family hotel.

There was a guy from a tv station videoing it all.
...
Thank you so much for making me aware of this day. I really appreciate it. "
13th August 2016 Media Reports
See the following report summaries in The Netherlands media (you'll need to apply an online translator):
Thanks to Jacques Ploeger for the following items.
| | |
| --- | --- |
| de Telegraaf 13th August 2016 | de Telegraaf 13th August 2016 (translation) |
See the Grimsby Telegraph link (30th August 2016):
September 2021, Roy Kay Video
Recently (September 2021) a video about Roy Kay has been made available on YouTube. Jacques Ploeger in The Netherlands has been involved with the creation of some videos based on WWII aircraft that crashed in The Netherlands. There is one such video telling the story of the S/Ldr G S Smith DFC crew in ME840, Sterkrade, 16 Jun 1944) crash and the escape of F/O Roy Kay. It can be found on You Tube here. The video is in Dutch but there are English subtitles.
December 2022, Roy Kay Escape Bulletin
Thanks to Jacques Ploeger for the following items.
| | |
| --- | --- |
| Escape bulletin part 1 | Escape bulletin part 2 |
Other Information
Jacques Ploeger's grandfather's brother Michiel Ploeger, also assisted pilots in evading capture and returning to the UK. He was eventually caught and thrown in prison. Then after the attack on Rauter, the German commander near Arnhem, he was taken out and put in front of a firing squad and executed at Woeste Hoeve, where his name is remembered on the war memorial. See the following links for more information:
The De Woeste Hoeve massacre was one of the worst attrocities carried in The Netherlands by the Nazis.
Jacques ended his email with the story of the F/O Kay escape and the silk parachute wedding dress: "This tells something about the Dutch in wartime, still showing their gratitude for the help they got."
So too the gratitude of the 550 aircrew rescued by brave civilians in The Netherlands, and in Belgium, France and Denmark too where 550 aircraft crashed, the local people who risked all, and often paid a heavy price, in order to help them to escape.