Oude IJsselstreek Commemorations
550 Squadron Commemorations in Oude IJsselstreek, Belgium
S/Ldr Smith and the crew of ME840 failed to return on 16/17 June 1944 from a raid to Sterkrade, Germany.
A Memorial Plaque has been raised in Oude IJsselstreek for the crew. There is also a Memorial Plaque for F/O Pulfrey at the spot, near Barlo, where his body was recovered.
The crew lost on this operation were:
F/O Roy Kay (F/Eng) was the only one to survive the shooting down on the night of 16/17 June 44. F/O Kay managed to parachute and land safely and, although injured, evaded capture.
Other information about the flight and the target available here.
Their entries on the 550 Squadron Roll of Honour can be viewed here.
For more information about the crew see also the S/Ldr G S Smith crew web-page.
Click on the pictures below to see photographs of recent commemoration events.
Commemoration 2018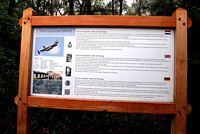 (click on picture)
Photographs taken at the June 2018 unveiling ceremony for the new Memorial Plaque
Pulfrey Memorial
The following photos kindly provided by Joe Pinguey.
2012
| | |
| --- | --- |
| | F/O L Pulfrey Memorial, August 2012 |
2016
| | | |
| --- | --- | --- |
| F/O L Pulfrey Memorial, August 2016 (renewed) | | |
The following photos kindly provided by Jacques Ploeger.


Translation:
In memory of F/O Lesley Pulfrey, who was found dead in the early morning of June 17 1944, about 50 meters to the south of here after a failed jump from his burning Lancaster Bomber. This aircraft of the Royal Air Force took part on a raid on the oil-plants of the German city of Sterkrade. It finally crashed near ''de Vennebulten'' on the outskirts of Varsseveld. In total 6 out of 7 people died. They are all buried in the Varsseveld Cemetary.
Let us always honour them.
2019
The memorial to F/O L Pulfrey was renewed in 2019 by Peter Rhebergen and Gerrit H van Eerden with a sturdy, metal material to make a more weather resistant memorial set in a concrete base. The text on the plate is somewhat different from the original memorial.
The following photos are from Gerrit H van Eerden (via Joe Pinguey).

F/O L Pulfrey Memorial, 2019 (renewed)



Translation:
In memory of Flying Officer Leslie Pulfrey, who was found dead after a failed jump from his Lancaster bomber which was set on fire, in the early hours on the 17th of June 1944, at approximatly 50 meters in southern direction from this place. The Lancaster (ME 840) was part of the R.A.F. (Royal Air Force) and had taken part at an airstrike on the oil installations near the German city of Sterkrade. The plane eventually crashed near the neighbourhood 'De Heelweg', located near Varsseveld. 6 out of 7 crewmembers lost their lives in this accident. They are buried in the cemetery of Varsseveld. Flying Officer Roy Kay survived the crash. With the help of people from the Resistance, he managed to escape to England in September 1944. 55 years after this tragic accident, 4 F-16 fighters from the Royal Airforce of the Netherlands brought a salute in the form of a fly-by to the fallen in action Leslie Pulfrey and his fellow airmen.
Let us honour them



Aalten Fly-pasts
Poster for the 55th anniversary of the crash
On 17th June 1999 the Royal Dutch Air Force presented a flypast of 4 F-16 fighters from the Airbase at Twenth and flew over the crash site and where F/O L Pulfrey was found.
Photo kindly provided by Joe Pinguey
17/06/2014
The Royal Dutch Air Force will fly four F-16 aircraft in "missing man" formation at 16.00 hours local time on 17 June 2014 as a mark of respect for the crew of Lancaster ME840 that crashed on 17 June 1944 while on a raid to Sterkrade.
See: Sheffield Star: 16/06/2014
Screen shot from newspaper kindly provided by Joe Pinguey
19/07/2014
On 17th June 2014 the Royal Nederlands Air Force presented a flypast of 4 F16 fighters from the Airbase at Leeuwarden and flew over the crash site Barlo (Aalten) and where F/O L Pulfrey was found

Collage kindly provided by Peter Rhebergen
Peter Rhebergen was instrumental in making the arrangements, coordinating with the Leeuwarden airbase, for the fly-past
Many thanks to Peter, and everyone involved, for making possible this mark of respect for 550 aircrew
(high resolution photo ca. 9Mb)
F16 fly-past, June 2014
Photo kindly provided by Peter Rhebergen
F16 fly-past (as above) - but with the caption in English
Photo kindly provided by Peter Rhebergen