Achiet-Le-Petit Commemoration
Commemorative Visit 2018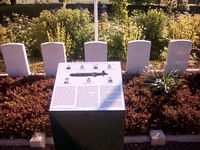 Description
Members of the Logan family gathered with local people in Achiet Le Petit to honour the crew of LL836.
This year, to commemorate the 75th anniversary of the end of WWII, a memorial plaque was commissioned detailing the background to the memorial.
Photographs
Below, a selection of photographs from the Commemoration Service in Achiet-Le-Petie. Many thanks to John Logan (nephew of John Logan DFC) for making the pictures available.
Click on individual pictures to view the larger image.

Crew graves

Graves with descriptive plaque in foreground

Close-up of plaque
(detailing the background to the memorial)

A plaque of commemoration and thanks being presented
by John Logan (right) to Mayor Xavier Duquesne
on behalf of the known descendants of the crew members

Framed Commemoration