Achiet-Le-Petit Commemoration
Commemorative Visit 2016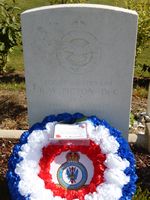 Description
Members of the Picton family gathered with local people in Achiet Le Petit to honour the crew of LL836.
They received a warm welcome from Mr Xavier Duquesne (Mayor of Achiet Le Petit), and several of his colleagues, along with Michel Lespagnol, who has been researching many of the aircraft lost over the Somme. Included below is a photo taken outside the Mairie. They then went to see the crash site (photo also below).
After a lunch at "Tommies" in Pozieres the group travelled to see Pierre Ben at Warloy. He and his team have been excavating aircraft in the Somme for many years and researching their crews. He now has a large collection engines and other parts, but had not found much of LL836 as the locals recall the Germans taking most of it away. He did however, have a burnt out wiring loom, about 40cm long, which has returned to the UK where, due to it's fragile state, it is being mounted in a frame to preserve it.
Finally, they had a flight over the WW1 battlefields (flown by Mayor Xavier Duquesne).
| Document | Description |
| --- | --- |
| MP4 video (google/drive) | Helen, a cousin of F/Lt Richard Picton, was overwhelmed and so grateful to everyone who had researched her much loved cousin. It may be over 70 years ago, but it has helped to answer many questions and uncertainties around Richard's death. In the video she tells her story about those events so many years ago. |
Photographs
Below, a selection of photographs from the Commemoration Service in Achiet-Le-Petie, France in September 2016. Many thanks to Cilla Britton for making the pictures available.
Click on individual pictures to view the larger image.
Below a picture of the crash site and the family group outside the Mairie in Achiet Le Petit.