550 Squadron Crew
F/O J O Richard DFC and Crew
F/O Richard and crew were posted to 550 Sqdn from 100 Sqdn "C" Flight w.e.f 25/11/1943. They were in fact the first crew in the list of transferred crews on the date of squadron formation.
F/O J O Richard posted in as P/O Richard, but by the time of his first operation he was already F/O; he transferred out of 550 at the end of his tour as F/Lt Richard DFC.
The crew completed their tour at the end of May 1944 and were posted out between 10 and 17 June 1944.
Thanks to Rodney Rate (son of F/Sgt Rate) for making the photos below available.
| | |
| --- | --- |
| F/Sgt William George Rate | F/Sgt Rate |

Aircraft on fire on the ground

Two unknown airmen

Compass used by F/Sgt Rate, and which he
bought home and his son used at school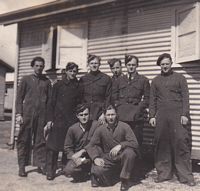 Group photo (possibly a mix of air-crew and ground-crew)
Since F/Sgt Rate is present it is/was thought perhaps it could be the F/O Richard crew
The location is not known, it may be North Killingholme or one of the postings included in the log book page attached below

The request from Rod Rate is that if anyone can identify other faces in the picture he would be delighted to hear from them.
Please email the web-site (contact details at the foot of the page) if you have any information about the men in the photograph.

Aircraft being serviced
(PDF format, picture)
Page from F/Sgt Rate pay book which has references to North Killingholme base
(PDF format, picture)
Page from F/Sgt Rate log book showing postings
(PDF format, picture)