Failed to Return
F/O E V Sage and Crew
F/O Sage and crew were posted to 550 Sqdn from RAF Feltwell w.e.f 3.3.44:
F/O Sage and his crew were killed in Lancaster JA918 on operations to Mardyck 9/10 May 1944.
The entry on the 550 Squadron Roll of Honour is available here.
Other information about the flight and the target available here.
F/O D A Goulden
Thanks to Mark Chapman for making these pictures available.
| | |
| --- | --- |
| F/O D A Goulden | F/O D A Goulden (CWGC) |
Sgt W W Hopper (A/G)
Sgt William Walter Hopper's log books and other items are shown below.
Many thanks to Jem Bover for making these photos and log book pages available.
| | |
| --- | --- |
| | Sgt William Hopper |
Log Book (incl. flying with 550 Sqdn)
| | | | |
| --- | --- | --- | --- |
| Log Book Cover | Certificate of Qualification | Course Results | Log of aircraft flown in at Westcott OTU |
Training pages
| | | |
| --- | --- | --- |
| Training in Ansons (various pilots) | Training in Ansons (various pilots) | Training in Wellingtons (various pilots) |
| Training in Wellingtons (various pilots) | Training in Stirling Is (various pilots) | Training in Stirling I and IIIs (various pilots) |
| | |
| --- | --- |
| Training in Stirling I and IIIs (various pilots) | Training in Lancasters (various pilots) |
Training Flights and Operations, 550 Sqdn, North Killingholme
| | | |
| --- | --- | --- |
| Flights (with F/O Sage) | Flights (with F/O Sage) | Flights (with F/O Sage) |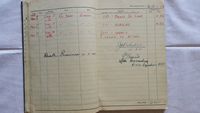 Flights (with F/O Sage). Last page. Crew FTR Mardyck
Various
| | |
| --- | --- |
| Group photo | Laundry ticket |